Welcome!
Welcome to our store!
Categories
Narrow your product search by choosing a category below.
Featured Bird Houses
Holiday Version of our Little Wren House. This style features a removable wreath detail around the entry hole. Topped with Western Red Cedar Shingles and painted with a Seasonal Red Outdoor paint. Bottom panel can be removed for easy cleaning: Features: This hanging house is designed to accommodate House Wrens. Window box frame and planter with decorative flowers (remove for outdoor use). Fully functional house has a bottom panel that can be easily removed for yearly cleaning. Topped with a western red cedar roof. Dimensions: 8" H x 6.5"W x 5.5"D. Sturdy brass chain.
Bluebirds were there to welcome the first settlers of Plymouth Colony, who called them blue robins. Now you can return the hospitality with the royal welcome of Bluebird Manor. Solid cypress construction. Features our famous stone-washed shingled roof. Solid copper trim and hinged front door for east access, viewing and cleaning. Excellent floor drainage and roof ventilation, with mounting paddle for easy hanging: Dimensions: 8" x 8" x 16". 1-1/2" hole.
Check out our Bird Feeders!
The PetSafe Healthy Pet Feeding Stations are the first gravity feeding system with a removable stainless steel bowl that is easy to clean and is dishwasher safe: Stainless steel is the #1 material vets recommend to support health and cleanliness. Sanitize the stainless steel bowl in your dishwasher to eliminate potential bacteria that can cause your pet harmful infections from micro-organisms, allergic reactions or skin and nose irritations. . The hopper is made of BPA free durable plastic. It locks in place to prevent knock over and spills and easily unlocks for refilling and cleaning. . The top opening makes refilling easy and a wide "wash and clean" opening at the bottom makes it easier to clean by hand or with a cleaning tool. Strengthening ribs provide added structural durability and the curved base provides a grip hold for easier handling. . The Healthy Pet Feeding Stations is designed to complement most home décor. The space-saving footprints and modern style are ideal for kitchens, laundry rooms, garages and other indoor areas. It is a healthier way for your pet to enjoy fresh, free flowing food with the easy conveniences you have been waiting for. Removable, stainless steel bowl. Wide "wash and clean" opening. Lock-in hopper to prevent knock over and spills. Modern design with space-saving footprint. Base with grip hold. Feeder Holds up to 10 lbs. pounds of dry food. Dishwasher safe. Indoor Use. BPA Free.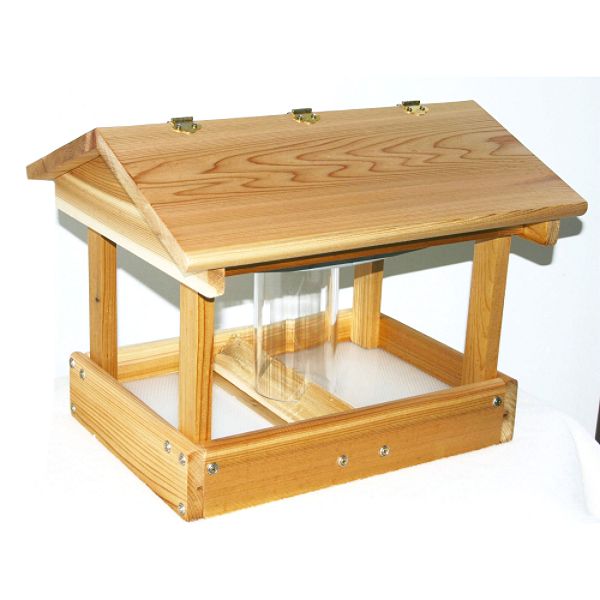 It is made of Western Red Cedar and is coated with a non toxic finish. Like all Stovall feeders, it ages well and looks even more beautiful in a natural setting. It is manufactured with double plated hinges. In addition, the perforated plastic bottom has two 3/4" drainage holes covered with fine wire mesh. The pavilion feeder has a galvanized steel hopper with a plastic cylinder in the center so the seed is protected in harsh weather conditions. The feeder measures 17" wide x 15" high x 20" long and should be post mounted only. We recommend a 4" x 4" wood post. The feeder will hold 12 to 15 pounds of mixed seed and is suitable for sunflower, safflower, or mixed seed; cracked corn or millet.
Features: A great way to attract more Gold Finches. Finches contrast better against the sacks. Holds 50% more than the Finch Magic Thistle Sack.
All Sizes of Bird Cages
A premium home with all the necessities to welcome your pampered pet home. Made exclusively for PetSmart.
From the company that's re-inventing the avian environment.
This cage-top accessory features 3 toys. Designed for parakeets, cockatiels & lovebirds.