Welcome!
Welcome to our store!
Categories
Narrow your product search by choosing a category below.
Featured Bird Houses
Features: Scrollwork details. Pine shingled roof. Keyhole back for easy mounting. Back wall is removable for easy cleaning. This beautiful storybook house has a charming little balcony to provide the fledglings an extra footing before they head out on their first flight.
Features: Resembles a decorative dollhouse. Single cavity features a 1.25" diameter opening. Removable back for convenient seasonal cleanouts. Fully functional bird house that is perfect for smaller songbirds. Detailed scrollwork and beautiful roof are sure to complement any backyard, patio, or home. Handcrafted of kiln-dried hardwood and exterior grade plyboard. May be hung using the included nylon cord hanger. Non-toxic oil-based exterior paint. Dimensions: 11"H x 10"W x 9"D.
Features: One advantage of the excluder is the ability of three or more nestlings to access the entrance hole simultaneously for feeding. This gives runts a better chance to compete for food.
Check out our Bird Feeders!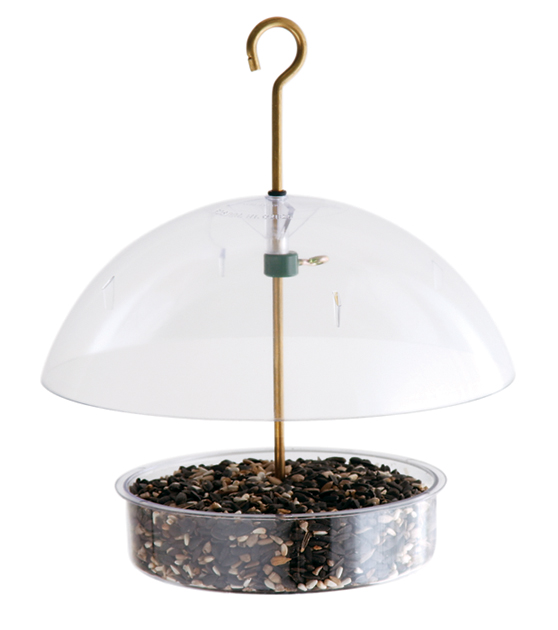 great for attracting bluebirds and feeding mealworms. dome can be raised or lowered. the seed saver consists of 7 inch x 1.75 inch dish which can be filled with bird seed- suet or table scraps. seeds dropped by the birds fall back into the dish and not onthe ground. cover is 10 inch diameter and can be adjusted.
This high quality,, hand crafted bird pavilion provides plenty of space for a secure picnic for your feathered guests. Concealed galvanized steel hopper and gravity tube makes an all day attraction. For post mounting only. 12 to 15-pound mixed seed capacity. 17-inch w by 15-inch h by 20-inch l. Stovall products feature all cedar construction,, stainless steel and dichromate plated screws,, washers,, hooks and chains,, hand sanded,, assembled with screws,, many products coated with wood protector which accents the wood grain and the natural warmth of cedar. Environmentally green practices hand sorted down graded lumber. The Shop is heated with scrap wood,, cooled with natural shade and insulation,, nestled in a glen among 25+ acres of beech/maple/oak forest. Rumored staffing of woodland gnomes with a payroll of nuts and berries is still not factual.
Large Hopper Feeder. Excellent starter feeder for Cardinals and other songbirds and hold both sunflower and seed mixes. Easy top refill while hanging with the coated cable providing damage free hanging over tree limbs. Capacity: 8 cups.
All Sizes of Bird Cages
A premium home with all the necessities to welcome your pampered pet home. Made exclusively for PetSmart.
From the company that's re-inventing the avian environment.
This cage-top accessory features 3 toys. Designed for parakeets, cockatiels & lovebirds.