Welcome!
Welcome to our store!
Categories
Narrow your product search by choosing a category below.
Featured Bird Houses
Features: Crescent shaped entrance hole, which starlings dislike. Prevents them from entering your gourds and driving away your purple martins. Insert fits the Natureline 11" Gourds.
Features: Fully functional birdhouse. Removable back wall for easy maintenance. Single cavity and will attract wrens, finches, chickadees and titmice. Constructed of kiln-dried hardwood and exterior grade plyboard with non-toxic exterior paint. Roof is western red cedar which will patina to a silvery grey. Bracket and hardware for mounting is included. Dimensions: 11"H x 8.25"W x 9.5"D. This item has been finished with a pure white oil-based paint. To preserve the natural beauty, Home Bazaar recommends applying a non-yellowing polyurethane finish over the paint.
Holiday Version of our Little Wren House. This style features a removable wreath detail around the entry hole. Topped with Western Red Cedar Shingles and painted with a Seasonal Red Outdoor paint. Bottom panel can be removed for easy cleaning: Features: This hanging house is designed to accommodate House Wrens. Window box frame and planter with decorative flowers (remove for outdoor use). Fully functional house has a bottom panel that can be easily removed for yearly cleaning. Topped with a western red cedar roof. Dimensions: 8" H x 6.5"W x 5.5"D. Sturdy brass chain.
Check out our Bird Feeders!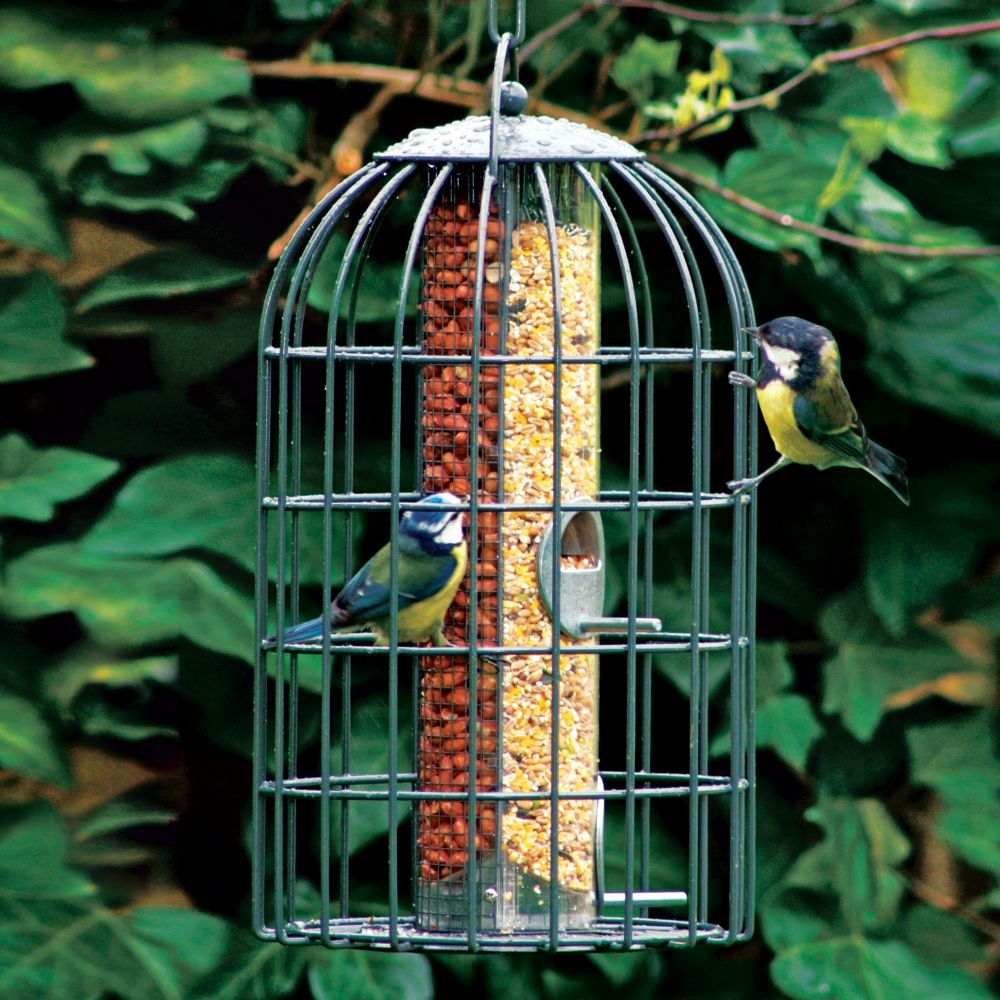 Two-in-one bird feeder keeps predators away.
10.5 in. x 11.5 in. Hanging Feeder. The feeder for the person with no room to feed birds. You can hang this reinforced screen bottom tray on your patio, balcony, tree branch or yard hook. The chain hanger and hook provide weather proof hanging for year ro.
Incredible detail and a whimsical feel characterize this unit. The front of the feeder has a faux door, window, and miniature bird feeder, while two more windows rest on the back. A pitched, black shingled roof tops the unit for added interest, and red accents underneath the roof, on the door, and on the chimney bring even more drama. Clear plastic panels form two sides of this item, creating a seed reservoir for your birds. An integrated seed baffle rests at the bottom of the reservoir, helping it empty completely. A small wooden ledge surrounds the seed tray, keeping feed in one place and offering birds a convenient perch while dining. Drainage holes on the base allow excess water to drain, helping keep seed dry and fresh. The lid lifts off the feeder for quick filling, and is held in place by two wooden pegs for added stability. Use the included chain to hang this feeder from a branch or hook, or add a mounting plate (not included) to post mount the item: Birds that use this feeder: cardinals, chickadees, doves, finches, flickers, goldfinches, grackles, grosbeaks, jays, juncos, kinglets, nuthatches, sparrows, starlings, titmice, towhees, and woodpeckers. Seed or Feed Options: cracked corn, mixed seed, peanut chunks, safflower seed, sunflower kernels, and sunflower seed. Capacity: 1.3 qts, 1.95 lbs. Dimensions: 6"L x 7.125"W x 11.5"H.
All Sizes of Bird Cages
A premium home with all the necessities to welcome your pampered pet home. Made exclusively for PetSmart.
From the company that's re-inventing the avian environment.
This cage-top accessory features 3 toys. Designed for parakeets, cockatiels & lovebirds.